Rex-Cut Type 1 Abrasive Wheels
Rex-Cut Products introduced a line of small, thin-profile Type 1 cotton fiber abrasive wheels for deburring slots, gears, stampings and castings, and cleaning pipe threads.
---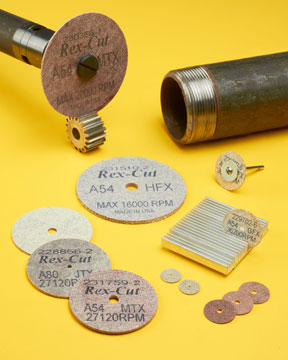 Rex-Cut Type 1 Abrasive Wheels feature multiple layers of cotton-fiber that are impregnated with aluminum oxide or silicon carbide abrasives and laminated, pressed, and bonded into dense wheels. Continuously exposing fresh abrasives as they work, these long-life wheels come in 1" to 4" dia. sizes from 1/32" to 1/2" thick for reaching into slots and crevices that are too narrow for conventional unitized wheels.
Suitable for aluminum, steel, stainless steel, titanium Inconel, and other exotics, Rex-Cut Type 1 Abrasive Wheels are capable of lasting up to 10 times longer than unitized wheels, claims the firm. Available in coarse, medium, fine, and very-fine grits with soft or hard bonds, applications include aircraft production, metal fabrication, and pipe thread maintenance.
Rex-Cut Type 1 Abrasive Wheels are priced according to size, abrasive grain, bond, and quantity.