Rex Cut Sigma Green Max
Rex-Cut Abrasives launched a new quarter inch thick grinding wheel called Sigma Green Max.
---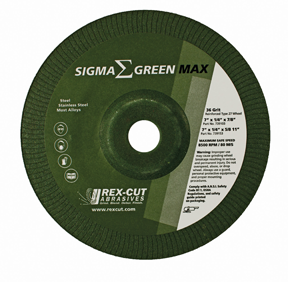 The newest addition to the Sigma Green family of grinding wheels, Sigma Green Max reaches a sought-after performance balance of fast stock removal, great finish, and long life for fabrication applications, the company says. The Sigma Green Max wheel is produced from bonded resin with a unique combination of grains that enable it to grind extremely fast compared to other products without sacrificing finish.
The Sigma Green Max wheel features high material removal rates, yet leaves behind finishes that are much less rough than competing wheels with similar removal capabilities. This new wheel also achieves physical balance, eliminating chatter and reducing stress on operators, in turn diminishing their susceptibility to repetitive motion and vibration disorders.
"Sigma Green Max achieves new levels in balance, both in terms of the attributes this line brings to the table and the range of applications it is well suited for," said Bob Costa, vice president of Rex-Cut. "Operators looking for a wheel that cuts fast, run smooth, produces approximately a 100 RA finish, and lasts a long time will discover that Sigma Green Max delivers in all these areas without compromise."
Suitable for use on metals such as stainless steel, mild steel, hard face, titanium, alloys and aluminum, the Sigma Green Max grinding wheel is expected to serve a wide range of industries.