Rex-Cut cotton fiber mounted points
A full line of cotton fiber mounted points that are ideally suited for EOAT (end-of-arm-tooling) in automated metal deburring and finishing applications is available from Rex-Cut Products Inc.
---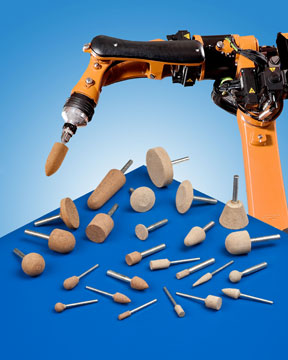 Rex-Cut Mounted Points are made with multiple layers of non-woven cotton fiber and either aluminum oxide or silicon carbide abrasive grains that are pressed and bonded into standard A, B & W-shapes. Ideal for EOAT in robotic finishing operations, they reveal fresh abrasives as they deburr and finish in one step and can be made in custom shapes to match OEM requirements.
Suitable for stainless steel, titanium, Inconel, exotics, and aluminum, Rex-Cut Cotton Fiber Mounted Points are offered in hard and soft bonds and can be produced in custom shapes and sizes for finishing slots, seams, internal cavities and other applications without changing part geometry. An 80 Grit soft bond is capable of leaving a 16-20 RMS finish on stainless steel.
Rex-Cut Cotton Fiber Mounted Points for EOAT are often developed to match OEM application and significantly outlast conventional mounted points, claims the firm. They are priced according to shape, size, and quantity.