Rex Cut Alpha Green Cut-Off wheels
Rex-Cut Abrasives offers a line of cut-off wheels that are extremely thin and iron-free to cleanly cut stainless steel at rates up to twice as fast as conventional resinoid wheels.
---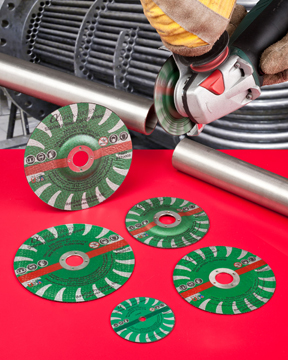 Rex-Cut ALPHA-GREEN Cut-Off Wheels feature a thin profile which is only 0.040" thick and are iron-free to produce a clean cut on stainless steel. Providing faster cutting than conventional resinoid wheels and a smaller exit bur, these thin profile cut-off wheels run cooler and provide a long service life, claims the firm.
Suitable for use in straight- and right angle grinders, Rex-Cut® ALPHA-GREEN Cut-Off Wheels incorporate a proprietary reinforced resinoid bonding system of 60 grit aluminum oxide abrasives. They are offered in Type 1 straight-sided and Type 27 depressed center styles in 3", 4", 4-1/2", 5", 6", and 7" dia. sizes.