Close quarters cutter
Work faster in restricted spaces.
---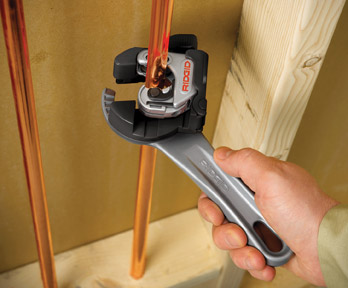 The Ridgid 2-in-1 Close Quarters AutoFeed Cutter combines the Ridgid model 118 Close Quarters AutoFeed Cutter with a ratchet handle that allows for easier cutting in tight, restricted spaces. The operator tightens the football-shaped knob once and the spring-loaded cutter wheel will automatically cut. The cutter is adjustable from 1/4 inches to 1 1/8 inches outer diameter. Designed for use on hard and soft copper, aluminum, brass and plastic tubing.
COMMENTS: 0
---