RIDGID Locking Steel Tape Measures
Lightweight and easy to carry, the RIDGID Locking Steel Tape Measures are designed with a comfortable grip on a heavy-duty tape measure structure.
---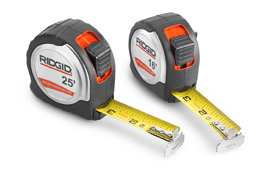 The durable tape measures are available in 16-foot (Model 616) or 25-foot (Model 325) versions.
The tape measures are equipped with a rubber case that has stainless steel caps and provides grip traction in wet conditions. The extra-wide (1 1/16") measuring blade is easy to read, nylon coated and abrasion resistant.
COMMENTS: 0
---