Rockwell oscillating multi-tools
Rockwell announced three new Sonicrafters, as well as a ShopSeries Sonictool, to accept other brands' accessories without adapters.
---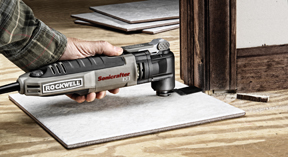 In addition, a new assortment of Rockwell universal accessories is designed to fit competitive multi-tools.
The new Hyperlock tool-free (quick-release) feature on two new Sonicrafters, RK5139K and RK5140K, provides one ton of clamping force to prevent slippage of blades and other accessories. This is the highest accessory clamping force on any tool-free oscillating tool. So no more stopped cuts because the blade slips in the tool.
"The exclusive Universal Fit system, plus the Hyperlock tool-free design on selected models, make the new Sonicrafters and Sonictool the most versatile and convenient oscillating multi-tools available to homeowners and professionals," said Pete Denley, Rockwell product manager. "In light of our total commitment to the Universal Fit system, all previous Rockwell oscillating tool and accessory kits will be discontinued with the new program's launch."
Rockwell also has ramped up the amps in its new corded oscillating multi-tools, increasing their power and cutting efficiency. The Sonicrafter X2 (RK5140) leads the way with an increase from 2.3 to 3.0 amps. The Sonicrafter (RK5139) jumps from 2.3 to 2.5 amps and the ShopSeries Sonictool increases from 2.0 to 2.3 amps.