SK Hand Tool CushionGrip screwdrivers
SK Hand Tool LLC introduced the CushionGrip screwdriver line, setting a new standard for performance by delivering higher torque than standard screwdrivers mechanics are familiar with.
---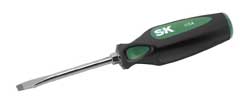 Made exclusively in the United States, CushionGrip screwdrivers offer unprecedented comfort and control. This is achieved by a dual durometer handle providing a soft, yet secure grip that won't slip in the user's hand, even when slick with sweat or oils. The key is a patented Thumb Valley positioned at the bottom of the handle in three places giving total control. Another unique feature to the handle design is a clearly identifying stamp at the top that signifies the screwdriver style and size, saving the mechanic the time and hassle of sorting through his toolbag.
On the business end of the CushionGrip is a vapor-blasted, long-life tip that holds tight to fasteners, along with a heavy-duty Chrome-Vanadium steel shaft plated with nickle-chrome for superior corrosion protection. Bolstered blades are machined to the exacting tolerances that SK Hand Tool is famous for. Standard sizes are available, along with extra long reach shafts and stubbies.
SK Hand Tool CusionGrip screwdrivers come in a wide variety of 7, 6, 5 and 4 piece sets. All are backed by SK Hand Tool's lifetime replacement guarantee. The sets of been reconfigured to make it easier for the professional to build on the sets as they purchase more.