Scrubs foaming hand sanitizer
ITW Dymon introduced a new foaming hand sanitizer formula.
---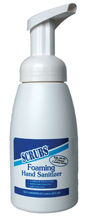 One 8.5 ounce pump dispenser of Scrubs Foaming Hand Sanitizer provides 150 applications of foam to effectively saturate hands and kill 99.9% of disease-causing microorganisms in seconds. It is an FDA-regulated product with specific kill claims for microorganisms including MRSA, E. coli, salmonella, staphylococcus and streptococcus. The lightweight foam formula conditions and moisturizes hands and leaves a light lemon scent. The smooth white container is tapered and easy to grasp.