Portable pipe beveling machine
Steelmax Tools introduced its new portable pipe beveling machine Pro 10PB/PBE.
---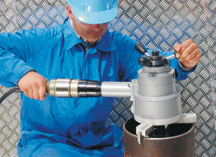 Available in either pneumatic or electric versions, the Pro 10PB/PBE can bevel a large range of pipe diameters from 1.5 to 10 inches with a single machine. Its lightweight compact design allows it to be set up and operated by a single user. Using a self-centering ID mounted mandrel, it will perform beveling, facing, counter boring and J groove weld preparation. Producing perfectly machined pipe ends allows for rapid fit up and welding.