Task Tools power tool accessories
Task Tools announced the launch of three new Power Tool Accessory programs: Impact Driver Accessories, Robertson Decking Bits and TASK Signature Spade Bits.
---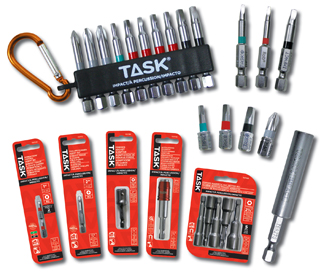 "We have completed a lot of R & D in the last year, and 2012 is going to be a big year for product launches at Task Tools," says TASK President and CEO, Craig Caplan. Independent laboratory tests have proven that TASK Impact Driver Bits outlast and outperform competing brands and the company is willing to stand behind this with a money back guarantee.
TASK Impact Driver Accessories are designed with the most demanding professional users in mind. They offer several unique and patented features such as the Autolocking Quick Change Extensions that securely grip any ¼" hex shank, even 1" bits without quick change ends. By using a proprietary metallurgy and patented geometry, the Phillips and Robertson Impact Driver Bits achieve unrivalled durability that is laboratory proven. Driver bits are colour-coded and all impact accessories are marked with bold IMPACT labels to make selection quick and easy. The full Impact line includes Driver Bits, Magnetic Nut Setters, Socket Adapters, Magnetic Bit Holder and the Autolocking Quick Change Extensions. Impact Bits can be purchased in the unique 10-pack carabiner clips or individually in bulk and carded formats.
TASK Signature Spade Bits have many innovative design features making them the fastest spade bits on the market. The full cone threaded tip pulls through wood with minimum effort and vibration while the spur and reamer tips below allow for a clean exit hole with minimal breakout. The contoured paddle design enables fast chip clearance for maximum speed. TASK Signature® Spade Bits also feature quick-change 1/4" hex shanks that prevent chuck slippage and the bits are heat treated for durability. A full program including 4" stubby, 6" standard, 16" extended and extensions measuring 6" and 12" are available.