TASK DesignCord Autorewind Cable Reels
TASK Tools announced the launch of TASK by Designcord products as a part of the new Innovative Electrical Accessories Program.
---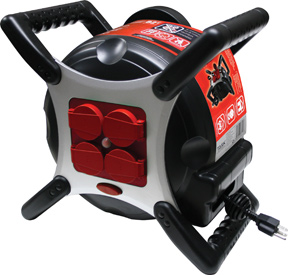 The product offerings from TASK by Designcord includes Autorewind Cable Reels that solve three end user problems associated with extension cords:
Creating a permanent "home" for an extension cord
Eliminating extension cord tangles
Allowing the use of the winding function on a cable reel without unplugging devices from the reel
The sockets on traditional cable reels are mounted on a rotating hub. This means that any devices that are plugged into the cable reel when winding will become twisted and tangled. TASK by Designcord Autorewind Cable Reels solves this problem with patented fixed sockets that don't rotate when unwinding or rewinding the reels.
In addition, the autorewind feature makes putting your extension cord away easy and largely eliminates the possibility of cord tangles.
TASK by Designcord Autorewind Cable Reels are available in a variety of lengths and configurations for multiple applications.