Techspray E-Line cleaners
Techspray introduces E-LINE Zero-VOC General Cleaner and E-LINE Hi-Flash Maintenance Cleaner.
---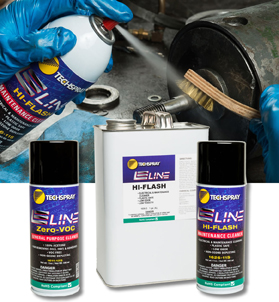 E-LINE Zero-VOC General Cleaner (part #1611-12S) and E-LINE Hi-Flash Maintenance Cleaner (#1626-11S) offer effective cleaning and other benefits at surprising low-cost to electronic assemblers, general manufacturers, and repair operations.
E-LINE Zero-VOC is ideal for heavy-duty degreasing and for removing paint and sticky adhesive residues. In electronic assembly and repair, it can be used to remove uncured adhesive from stencils and conformal coating from circuit boards. VOC's (volatile organic compounds) are smog-producing materials common in many cleaners, and are becoming more-and-more regulated by state, region, and even municipality. Because E-LINE Zero-VOC is VOC-free, there are no regulatory concerns – even in southern California! Other designer VOC-free solvents can be cost prohibitive for general industrial cleaning, so this product is a great new option.
E-LINE Hi-Flash is a non-chlorinated, low odor degreaser and electrical cleaner. It is ideal for cleaning light oils and carbon residues from control panels, switch plates, enclosures, and work surfaces. Slower evaporation allows the solvent to soak in and break down difficult soils. Non-flammable solvents are desired, but are often cost prohibitive for industrial applications. Lower cost alternatives are often highly toxic, like n-propyl bromide (nPB) and trichloroethylene (TCE). E-LINE Hi-Flash ignites only at higher temperatures (over 140°F/60°C) and has low toxicity, so it is a safer alternative than other solvents available at similar prices.
"The new E-LINE solvent cleaners, like E-LINE Zero-VOC and E-LINE Hi-Flash, provide back-to-basics cleaning solutions that solve problems without breaking the bank," said Kevin Pawlowski, Techspray's Senior Product Manager.