Thomas & Betts surge protectors
The Joslyn line of AC surge protection products from Thomas & Betts includes more than 1,300 standard configurations.
---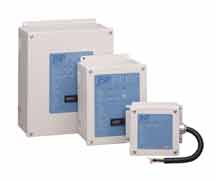 Joslyn surge protection devices (SPDs) protect operations from the damaging effects of electrical power surges, transients and noise, from the service entrance to the equipment level.
Suitable for protecting single, split and three-phase applications ranging from 120 V to 600 V Delta, Joslyn surge protection products are capable of handling high-surge energy to 400 kA per phase and are suited to meet the many requirements of industrial, commercial, institutional and residential applications.
"Per 2008 NEC Article 708, a cascading approach is recommended when protecting a facility, which includes surge protection at the service entrance, the branch panel and point of use," said Lina Salah, Thomas & Betts SPD product manager. "This approach minimizes overall lifecycle costs and optimizes facility uptime, for which Thomas & Betts has the complete solution for any facility."
The Joslyn line of AC surge protection products features a surge counter, LED display, audible alarm status indicator and remote monitoring. In addition, the line features individually fused metal oxide varistors (MOVs) to provide protection from extended surge events. The products are listed to Underwriters Laboratories (UL) 1449 Third Edition and are Restriction of Hazardous Substances Directive (RoHS) compliant. Joslyn AC surge products also are available in multiple voltage configurations and feature proprietary designs that maximize system performance.