Wallover machining coolants
Wallover Oil Company introduced two new machining coolants - WS 7450 and WS 7450HP.
---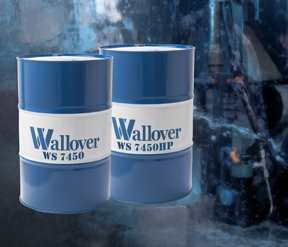 WS 7450 is a heavy duty, chlorinated semi-synthetic coolant that forms a transparent micro-emulsion when mixed with water.
WS 7450HP has a similar formulation but also offers excellent foam control. This feature makes it ideal for high pressure CNC and grinding operations.
Wallover's WS 7450 and WS 7450HP can be used on a wide range of metals including tough stainless steel alloys, cast aluminum, ferrous metals, and cast iron. They offer excellent rust and corrosion protection for the inner workings of the machine tool and they also offer extreme pressure lubrication, which can increase the life of the tool while also providing excellent surface finish.