Weiler Roughneck
Weiler Corporation's 4-1/2" Roughneck is designed specifically for use on 4-1/2" grinders.
---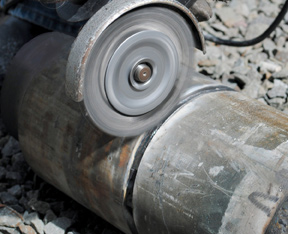 Although 4-1/2" is the most popular size of small angle grinder, welders and fabricators using this tool have traditionally been limited to 4" diameter stringer bead wheels for surface preparation, root-pass weld cleaning and inter-pass weld cleaning.
Weiler's 4-1/2" brush is designed for the greatest cleaning action and longest product life on small angle grinders and features a high knot count and a short trim length. This design results in a 35% improvement in cleaning action, up to 20% less wire loss and a 50% longer brush life than a comparable 4" stringer bead brush.
The 4-1/2" Roughneck is available in both carbon steel and Type 302 stainless steel wire with a variety of arbor hole options.