Weiler Green Works maintenance products
Weiler Corporation's Green Works line of maintenance products is made from recycled or sustainable raw materials.
---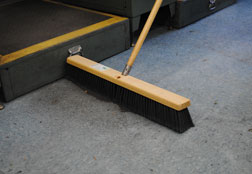 The line is manufactured in a Leadership in Energy & Environmental Design (LEED) approved facility to ensure that even the production environment is environmentally-friendly. The Green Works line is made to the same high performance and quality standards you have come to expect from all Weiler products.
Available Green Works products include floor sweeps, street brooms, the duo sweep with two handle holes (one straight and one angled), counter dusters, scrub brushes and handles.
Green Works fill materials are made from recycled water bottles, giving a second life to these waste products and helping clean up the environment; rubberwood blocks are made from the wood of rubber trees that have ended their life cycle in the rubber production industry; foam blocks are made from recycled plastics; and handles are made from bamboo – a very strong and durable natural resource that replenishes at a very rapid rate.