Wright Tool introduces new striking wrench adaptor
Wright Tool introduced its new striking wrench adaptor that saves money, time and tool storage space.
---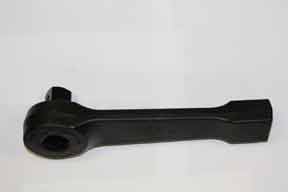 The 11 1/2-inch long adaptor allows for a single striking wrench to be used on a variety of fasteners by attaching to any size 1-inch drive impact socket. Versatility for a wide range of applications is enabled when the adaptor is used with an impact socket. It can be used in conjunction with a 1-inch drive extension or flex handle to hold the adaptor in place. To use the striking wrench adaptor safely, it always should be used with the proper safety equipment and the proper socket set-ring.
Wright Tool offers both straight and offset style striking wrenches that range in sizes from 1 to 4 5/8 inches. The offset style is designed for situations where easy access to the bolt from above the work surface is necessary.