sia Abrasives Non-Woven Flapwheels
sia Abrasives Inc. USA announced the release of its new siafleece Non-Woven Flapwheels.
---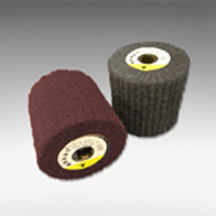 They are available in "Heavy-Duty" grade (series 6130) and "Clean and Finish" grade (series 6120).
"These new Flapwheels add to our extensive line of non-woven abrasive products for mechanical applications including belts, discs and convolute and technical wheels," said sia USA general manager, Joseph Smith. "Our non-woven products provide a consistent scratch pattern due to superior grit consistency – our grit is impregnated throughout the entire structure, not just coated on the surface. Metal workers looking for a proven abrasive product for their burnishing tools can once again rely on the sia brand."
Heavy Duty series 6130 wheels provide longer life in mechanical medium pressure applications, whereas the Clean and Finish series 6120 wheels are suitable for low-speed, low pressure applications. These non-woven flapwheels are ideal for cleaning and coating removal, deburring and blending, and surface preparation.