sia Abrasives siabite file belts
sia Abrasives Inc. USA announced the release of its new siabite 2511 file belts.
---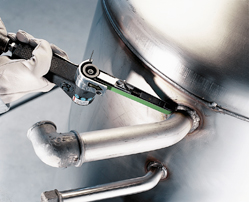 The new file belts contain self-sharpening ceramic grits and are used in heavy-duty metal work.
"The series 2511 file belts are a natural extension of our 'siabite' ceramic product line. These new belts utilize the same technology found in our existing siabite fibre discs, but allow the end-user to concentrate the full sanding force into even tighter work spaces," said sia USA general manager, Joseph Smith.
The siabite ceramic grit product line contains highly active grinding agents to achieve aggressive removal rates while extending lifetime. It also contains a secondary top coat grinding aid to reduce heat build-up. siabite file belts and fibre discs are engineered for more-demanding metal applications such as: sanding weld seams, deburring, and material removal. They can be used on stainless steel, high-alloy steels, and super alloys.