siachrome Polishing System
sia Abrasives Inc. USA announced the release of its new siachrome Polishing System.
---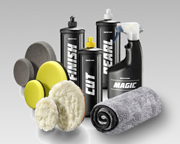 siachrome provides a solution for every step in the automotive polishing process, and is applicable for all conventional and clear coat paint systems.
"The siachrome Polishing System expands our presence in the automotive finishing arena. It is the next evolution of our prior compound, with a proprietary formula to make it a superior alternative to existing polishing systems, and a wonderful compliment to our growing automotive abrasive line," said sia USA general manager, Joseph Smith.
New siachrome utilizes an inventive color-coded concept to ensure process-reliable polishing. siachrome "CUT" comes in a yellow-accented bottle and is a highly effective scratch remover when used with the corresponding yellow accessories.
Similarly, siachrome "FINISH" comes in a black-accented bottle and is a highly effective remover of micro-scratches and swirl marks when used with the associated black accessories. Finally, siachrome "PEARL" comes in a white-accented bottle and is a superior paint sealant that provides a rich and long-lasting deep gloss. The siachrome "MAGIC" cleaning solution is also available and works well with sia Abrasives premium cloth.