Brush Research Diamond Flex-Hones
Brush Research Manufacturing Diamond Flex-Hones are designed for deburring, edge blending and surface finishing in hard materials like carbide, ceramic and aerospace steel alloys.
---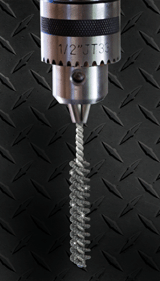 The tools are engineered using resin bond diamond crystals that have high friability, which creates self-sharpening edges. The result is a tool that is free cutting with a rapid cut-rate that produces an optimal finish. The new diamond tools are made with premium coated abrasive which aids in heat dissipation and improves bond retention. Sizes from 4mm to 20mm are standard in three different mesh sizes. Other diameters and mesh selections are available on special order. Brush Research has been in the business of solving difficult finishing and deburring problems with brushing technology since 1958.
Applications include carbide wear parts, guide and drill bushings, ceramic cylinders, heat-treated steel, high nickel stainless steel, MMX aluminum alloys, chromed and plated bores, aerospace components, medical parts and EDM recast layer.