Posted February 21, 2023
New industrial lubrication guide
Renewable Lubricants has published an Industrial Lubrication Guide that details the company's extensive line of bio-based products including hydraulic fluids, gear oils, greases, and penetrants.
---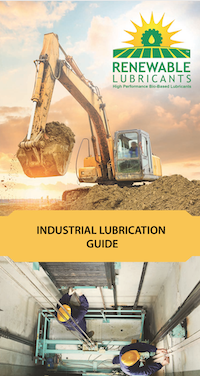 With over 25 years' experience manufacturing sustainable formulations, high-performing Renewable Lubricants products meet or exceed the specifications of petroleum-based products and are proven in a wide range of industries and applications. These petroleum free products are safer for both the environment and for the employees working with them.
Copies of the guide are available upon request or can be downloaded at: https://renewablelube.com/assets/files/Industrial-Lubrication-Guide-Brochure-Final.pdf
Share This!

INDUSTRIAL SUPPLY MAGAZINE
The September/October issue of Industrial Supply magazine features an in-depth cover story about '23 PTDA President Mike McLain and Allied Bearing & Supply. Plus, we're featuring articles by contributing writers Jason Bader, Mike Marks, and Mike Hockett, as well as interviews with numerous product and distribution industry experts.