Posted March 3, 2023
HeroWear Apex 2 exosuit to reduce risk of back injury
Apex 2 is HeroWear's latest version of its back-assist exosuit, leveraging the power of science with a focus on comfort, resulting in unparalleled protection and wearability. The suit weighs less than 3 pounds and can take 75 pounds of strain off a typical worker's back with every lift, and it reduces muscle strain and fatigue by up to 40% without motors or batteries.
---
Back injuries and related musculoskeletal disorders (MSDs) cost American companies $225.8 billion per year, according to the CDC — that's an average of $1,685 per employee every year. The 2022 Liberty Mutual Safety Index ranked strains from moving heavy objects as the number one source of injuries, accounting for 1 out of every 5 workplace injuries.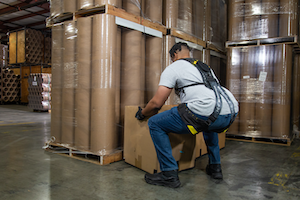 The Apex 2 will be launched via a virtual stream on March 8, 2023. Following the launch, HeroWear will take the Apex 2 on tour, allowing people in select cities to experience the suit in person at industry trade shows as well as private and public events. The suit will be available to ship worldwide this summer, and pre-orders are already underway.
"When we launched the Apex in 2020, we just wanted to help people do their jobs without sacrificing their bodies, so they could go home with more energy and less pain," said Karl Zelik, co-founder and chief scientific officer of HeroWear and associate professor of mechanical engineering at Vanderbilt University. "We accomplished this with the original Apex. It's impacting people's lives, on and off the job. We've seen it in the data and we hear it from long-time users. But also we listened and learned from these users and identified areas to improve the suit. We obsessed over the minute design details that make a huge difference in user experience. Now we're excited to bring these latest innovations to workers around the world."
The science-backed Apex 2 is designed to comfortably provide assistance for hard-working men and women who frequently perform demanding movements such as lifting and sustained or repeated bending. With that assistance, the Apex 2 reduces a person's risk of a back injury without restricting their freedom of movement.
"It's encouraging to see how the Apex has evolved how work is done and to hear stories about how the suit has already improved the lives of workers," said Mark Harris, co-founder and CEO. "We've been working with some of the largest logistics companies in the world, major auto manufacturers, the US military, food producers, and hundreds of other customers — all with the shared goal of protecting people and improving the lives of workers, while delivering a positive impact to the companies' bottom lines."
While working with such a large and diverse range of workers, HeroWear actively collected data and feedback to make the industry's best exosuit even better. The result has been multiple patent-pending innovations that further enhance the wearability, usability, fit, effectiveness, and longevity of the exosuit, all of which are critical for long-term user acceptance. Some of the improvements in the Apex 2 include:
More Comfort, Less Heat
The Apex 2 improves on the already best-in-class modular design to fit an even broader range of people even more comfortably. And the new design dramatically decreases heat retention — making it better suited for more environments.
Durability
Material selection and feature design for the entire suit have been rethought to ensure that the Apex 2 will hold up to whatever work needs to be done. From abrasion-resistant fabrics to engineering-grade polymers and aircraft-grade aluminum, the suit will hold up to the most rigorous situations and years of hard work.
Ease-of-Use
With the Apex 2, it is easier to size and train new users, and donning and doffing is faster and more intuitive. The redesigned, patent-pending switch makes it easy for users to activate the assistance when they need support and deactivate the assistance when they don't.
"An exosuit needs to provide assistance and needs to be comfortable, but it also needs to be easy to use," Co-founder and Chief Innovation Officer Matt Yandell said. "Productivity is important, so we doubled down on our user-centered approach and looked for every opportunity to make the suit easier to use. The goal is for the user to forget they have it on and move how they normally would, but with less fatigue and injury risk."