Posted March 17, 2023
CoroMill Dura versatile solid end mills
Cutting tool specialist Sandvik Coromant has expanded its line of CoroMill Dura versatile solid end mills with aluminum-specific tools.
---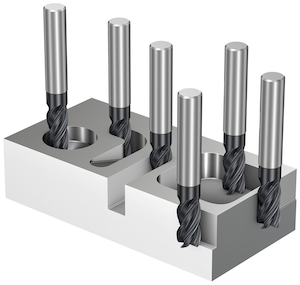 "These new, truly versatile end mills for aluminum machining are developed to have excellent capabilities in all applications," said Antti Wikström, Global Product Manager, Solid End Mills, at Sandvik Coromant. "Stable cutting, small burr, good surfaces and minimal vibration is a combination that's hard to beat for a versatile end mill like this."
"One of the main advantages of the new CoroMill Dura aluminum-specific end mills is their versatile performance in all different types of roughing applications, while also offering finishing capabilities," Wikström added. "Up to 2×D full slot, pocketing, 5–20° ramping, shoulder milling and more — all with the same end mill."
Another advantage is Sandvik Coromant's unique WhisperKut helix concept, in which each flute is carefully oriented, unequally spaced from the others and has its own individually adapted helix angle, effectively breaking up harmful harmonics. This design successfully eliminates vibrations, resulting in silent, safe and efficient machining.
The standard assortment offers diameters from 2–25 mm, depths of cut between 1.5–3×D, neck options, extended reach cutters, and sharp and corner radius styles. Tailor Made options include coated grades for more abrasive aluminums, specific diameters, corner designs and shank options.
To make tool selection easier, the online CoroPlus Tool Guide for CoroMill Dura assists with tool and cutting data recommendations. "Having the right cutting data is, of course, a prerequisite for both secure and efficient machining," said Wikström. "With the CoroPlus Tool Guide for CoroMill Dura, we can give the most accurate starting values for a specific application. And, if you have CAM software with the CoroPlus Tool Guide plug-in, it makes it even easier — you get the most relevant cutting data recommendations directly into your CAM program."