Quiet, affordable Aircat pneumatic tools from KBC
Industrial users in North America will appreciate the torque, speed and half the noise with Aircat pneumatic tools from KBC KBC Tools & Machinery. The company says the accessible price point of the tools combined with advanced technology will make them a popular addition to the shop.
---
KBC Tools & Machinery is stocking Aircat pneumatic straight die grinders, extended die grinders, angle die grinders, impact wrenches, ratchets, reversible drills, saws, and impact wrenches in ½" and 3/8" capacity, 3" reversible cut off tools, and hammers – all with feather triggers and high RPM in Canada and the US.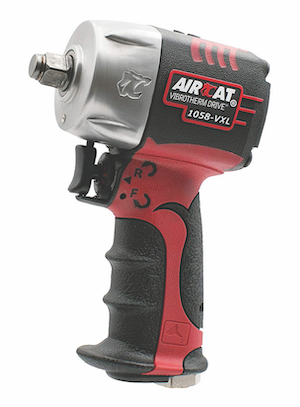 Many Aircat tools from KBC are available with a composite body for lighter, better hand feel, and more ergonomic use which all add up to greater productivity and less user fatigue. Aircat and KBC also provide many tools in Vibrotherm to reduce vibration during usage for easier handling.
A client, who is an aircraft mechanic at one of Canada's leading plane manufacturers, bought an Aircat composite angle die grinder, KBC part #1-830-045, and he said, "I assemble aircraft. I need a well-built, light tool that doesn't get in the way of my work. The sales rep talked me into an Aircat because of the trigger mechanism and that is important to me as I need to be able to control the speed easily and not burn or over do it when I am working.
"First impression, when I got the tool, I thought it needed to be "turned up" because it made almost no sound, but then touched the spinning mandrel onto the worktable to see parts of the table grind off instantly – this thing was moving! And it is quiet. Still, the best part of this tool is the trigger mechanism because you can feather the RPMs; however, even more useful to me, is that the trigger is a button style instead of the lever style. My old lever style trigger always hangs up on critical parts like hoses, wires and components that makes my work so much harder, this thing has nothing to catch on, making access to tight areas way better. My favorite part about the tool…the price."