Posted May 29, 2023
Fixtureworks pneumatic clamp fasteners
Providing instant clamping, Fixtureworks' lineup of pneumatic clamp fasteners are air-assisted clamping systems designed for quick change applications and for frequent changeover of tooling, plates and fixtures, reducing set-up time in multiple parts holding.
---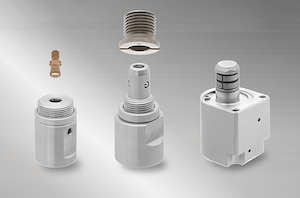 The lineup includes ball lock pneumatic fasteners, ID holding, pin holding both single and double acting pneumatic clamping fasteners.
With the ball lock version, the shaft pushes out the balls onto the tapered surface of the receptacle to provide the clamping force. A spring clamps when air is released and unclamps when air is supplied. The body is made from 303 stainless steel. The shaft from SUS420J2 stainless steel with an electroless nickel-plated finish, quenched and tempered. The balls are made from 304 stainless steel.
In the ID Holding variety, these holding clamps hold the internal diameter of prepared hole of a workpiece. These ID fasteners clamp when air is supplied and unclamp when air is released. The pulling shaft goes down by air supply from clamping port and the jaws expand to hold the workpiece, with clamping contact with the workpiece at three places. The maximum clamping diameter is 22 mm.
Pin holding "single" and "dual" acting pneumatic clamps are designed to be used with QCPC-series clamping pins. In the single action the piston goes up by air supply and the balls move toward the center to pull down the clamping pin. Clamping occurs when air is supplied, and the fasteners unclamp when the air is released.
In the "dual" acting version, the piston on the clamping port and the balls move toward the center to pull down the clamping pin. The inner spring on these double-acting fasteners can provide clamping force without air supply.
The lineup includes receptacles that are designed to be threaded into a base with a stainless lock nut or in blind hole installation and used with PBLC pneumatic ball locking clamps.
In addition to quick change pneumatic clamping fasteners, Fixtureworks offers quick release fasteners, quick action sliding locks spring plunger clamps, handle and levers, knobs and grips, equipment handles, hand wheels and cranks, hinges and latches, leveling supports, industrial rubber bumpers, stops and wheels, fixture clamps, clamping locating systems, work positioning elements, vises, grippers and mechanical linear actuators.