Posted June 9, 2023
RZ M3 mask with better breathability
The internationally-patented M3 mask from RZ Industries is an air filtration solution that utilizes state-of-the-art technology to capture 99% of particles as small as 0.1 micron, delivering exceptional protection against airborne contaminants.
---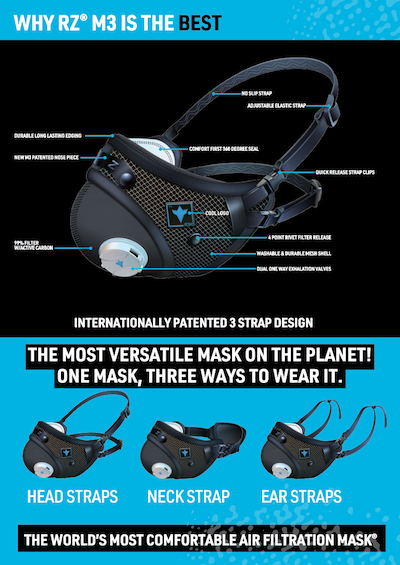 What distinguishes the RZ M3 mask is its 3-1 three strap design, a remarkable feat never before seen in the respiratory industry. Equipped with two head straps, a neck strap, and ear loop straps, users can revel in unparalleled comfort and a secure fit. This innovative design enhances usability and enables extended wear without discomfort.
The RZ M3 mask seamlessly combines cutting-edge filtration technology with the convenience of three different straps, providing versatility and a personalized fit for each individual. Whether you prioritize the stability of head straps, the convenience of a neck strap, or the ease of ear loops, the RZ M3 mask effortlessly adapts to your preferences and various applications.
It also boasts up to 50% better breathability compared to other masks on the market, a testament to RZ Industries' dedication to optimizing design for effortless and comfortable breathing, all while maintaining exceptional filtration efficiency. With its unique guarantee to prevent glasses from fogging, it has become an indispensable choice in the industry.