Posted June 29, 2023
Vacuum pump inlet traps feature special purpose filtration
A line of vacuum foreline traps that can protect vacuum pumps in processes ranging from semiconductor manufacturing to a wide range of industrial applications has been introduced by Mass-Vac, Inc. of North Billerica, Massachusetts.
---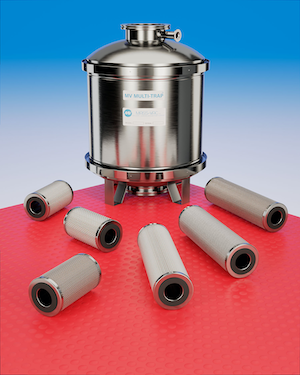 MV MultiTrap Vacuum Inlet Traps feature 304 stainless steel construction with a knock-down stage and two additional stages of user-selectable filter cartridges to offer filtration for a wide range of manufacturing processes. Available in a 12" dia model that uses two stages of six filters and a 16" dia. version that uses two stages of eight, users can customize these high-efficiency traps to match their specific application requirements.
Providing up to 99.9999% filtration efficiency, depending upon filter type and application, MV MultiTrap Vacuum Inlet Traps can be supplied with filter cartridges made from AmoniaSorb for ammonia and amines, MerSorb for mercury vapors, Potassium Permanganate to filter hydrogen peroxide, stainless steel gauze for heavy particulates and condensables, and polypropylene from 20 microns down to 0.1 micron. All come in 4.5" and 9" sizes.
MV MultiTrap Vacuum Inlet Traps are priced from $2,175.00 to $4,795.00 each; with filters priced separately.