Posted July 6, 2023
Four new Hyundai Material Handling forklift series
Hyundai Material Handling recently introduced a series of new and innovative products it says are stronger, safer, more cost-effective and eco-friendly. Unique and advanced design features enhance comfort and reliability while maintaining the highest level of power and durability.
---
Hyundai Series 9V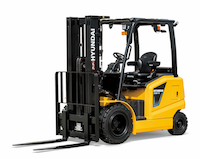 Hyundai B-X Electric
Pneumatic Lithium Series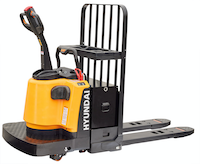 Hyundai Class III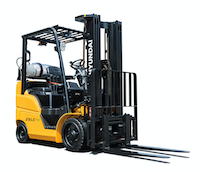 Hyundai 25/30/33LC-9 Series
"We're extremely pleased and proud to offer these new state-of-the-art, high-quality products," said Chief Operating Officer Lewis Byers. "Our new series exemplifies Hyundai Material Handling's commitment to fulfilling the needs of our dealers and their customers."
The New Forklift Series 9V Series
The 9V series satisfies customers' demands by adapting Hyundai's powertrain to
increase the durability of transmissions and drive axles and enhance driving comfort.
It includes the 25/30D 35DN-9V Diesel Pneumatic Forklift Series which offers a powerful, eco-friendly Hyundai diesel engine that meets all EPA/CARB Tier-4 regulations; innovative cost-effectiveness and reliable durability with improved capacity for heavy- duty handling; enhanced safety measures; and outstanding operability ergonomics, including a new digital-type cluster with MCU function. Available in 5,000, 6,000, and 7,000-pound-capacity, the 9V Series is sure to improve work efficiency with consistent convenience in any environment.
Another key offering in the 9V series is the 22,000-pound-capacity 100D-9V.
Redefining the meaning of high performance in heavy-duty forklifts, the 100D-9V combines the power and efficiency of a Cummins diesel engine that meets the world's most exacting emissions standards. The cab and controls are designed for maximum operator comfort and productivity, and it features innovative systems that will lower costs.
25/30/33LC-9 Series
With the LC-9 (LP Cushion) Series, Hyundai Material Handling took its proven design to the next level, adding improvements and exclusive features that improve performance and reliability, and simplify servicing and operation. Available in 5,000-, 6,000-, and 6,500-pound capacity, the Hyundai LC-9 series provides enhanced ergonomics and new safety features that help drive productivity while safeguarding not just operators but operations as a whole.
B-X Electric Pneumatic Lithium Series
The new battery-powered B-X Series brings forklift owners the complete lithium truck package: truck, lithium battery and charger, with an option to apply a conventional lead acid battery. Available in 5,000-pound through 7,000-pound-capacity, the heart of the B-X Series is a design that dramatically reduces energy consumption to cut the cost of ownership. Plus, the B-X Series can take advantage of Lithium-Ion Battery Technology, that provides longer run times, reduced charging time, and lower energy costs with zero emissions. Throughout these rugged machines are innovative features that improve reliability, simplify servicing, enhance safety, and offer a level of operator comfort unsurpassed in the industry.
Class III Products
Hyundai Material Handling is pleased to provide our dealers and their customers an exciting new selection of Class III products. This series of 10 electric pallet jacks, straddle stackers, and a manual pallet jack possess unique ergonomic designs, strong chassis, and quick-charging lithium batteries. With this new edition of Class III Products, Hyundai and its dealers now offer a complete line of material handling equipment to customers
– from the factory floor or warehouse aisles right up to the loading dock.