Posted July 14, 2023
Fixtureworks nutrunner clamps for robotic and automated clamping
A line of nutrunner clamps in both swing and block pull versions from Fixtureworks can provide robotic clamping, automated clamping and unclamping on automated and robotic production lines. A nutrunner is a member of the industrial torque wrench family—a series of tools used to tighten nuts, bolts, and screws in situations where torque is crucial. Unlike standard wrenches, torque wrenches can apply a defined level of torque to a bolt.
---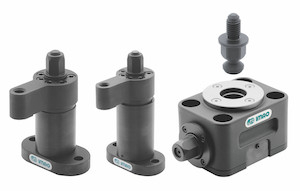 Unlike hydraulic solutions, Fixtureworks nutrunner clamps provide mechanical clamping without the need for hydraulic piping. This simplifies fixture design and maintenance, shortens preparation time, and lowers costs. They are equipped with a hex head for automated clamping and unclamping. Spiral-acting swing clamps and block pull clamp types are both available. They offer the high clamping force needed on machining and assembly lines. They can provide rigid and easy mounting to the plate and provide no tool interference for top surface machining.
The swing clamps, with clamping force up to 1350 lb., swing into position, then clamp straight down onto the workpiece for direct downward pressure. When releasing the clamp, the arm swings out 90 degrees for easy removal and placement of the workpiece. The internal spiral groove forces positive clamp arm rotation both in the clamping and unclamping motions. These clamps are designed to be used in robotized production lines where robots use nut runners. A torque-settable impact wrench may also be used to operate these clamps.
Block pull clamps, with clamping force up to 2,700 lbs., provide very quick and secure fastening and are ideal for 5-axis machining. They consist of a clamp base used with clamping screws. Block pull clamps mount under a workpiece, which allows the surface that will be machined to be accessible to the cutting tool. In addition to tightening with a wrench, this clamp can be operated with nutrunner for automation and impact wrench for lower workload. Clamping screws are used with block pull clamps.
In addition to nutrunner clamps, Fixtureworks offers quick change pneumatic clamping fasteners, quick action sliding locks spring plunger clamps, handle and levers, knobs and grips, equipment handles, hand wheels and cranks, hinges and latches, leveling supports, industrial rubber bumpers, stops and wheels, fixture clamps, clamping locating systems, work positioning elements, vises, grippers and mechanical linear actuators.