Posted July 23, 2023
New CRC Chlor-Free Universal Degreaser
Developed for effective degreasing of industrial equipment, CRC Chlor-Free Universal Degreaser revolutionizes the speed with which industries can tackle grease and grime while still meeting regulations in all 50 states.
---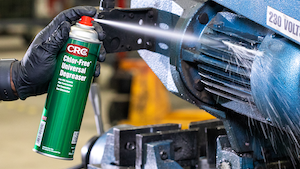 As environmental regulations become increasingly stringent, industries need powerful cleaning solutions that comply with these standards without compromising on efficacy. CRC Industries has developed a state-of-the-art aerosol degreaser that addresses these challenges head-on.
This new degreaser aggressively dissolves grease, dirt and oils that the competition can't. The PowerJet Spray Nozzle blasts away contaminants quickly. CRC Chlor-Free Universal Degreaser leaves no residue, and fast evaporation means less downtime. It works on a wide range of applications including motors, chains, wire ropes, cables, gears, generators, power tools, parts, bearings, pumps, heavy equipment, and anywhere a low flashpoint is acceptable. Available in a 14-wt. oz spray can (part no. 1753974), CRC Chlor-Free Universal Degreaser is rated NSF K1. It is non-corrosive and won't harm metals.
"As more states regulate the VOC limit to 10%, we must continue to innovate quality cleaners and degreasers that comply, said CRC Product Manager Tina Christie. "The compliant products in the market today underperform. CRC Chlor-Free Universal Degreaser is the first 50-state VOC compliant formula that is truly effective at the heavy-duty cleaning required in industrial settings. In our lab tests, it beats the competition — hands down! And by eliminating the use of chlorinated compounds, our new product ensures full compliance with regulations across all 50 states."