Posted August 11, 2023
Heavy-duty knob locking pins for secure locking and unlocking
New Fixtureworks heavy-duty knob-shaped locking pins are high-strength, quick-release alignment pins with a precision ground shank and can provide strong clamping forces to 2000N and holding forces to 5000N.
---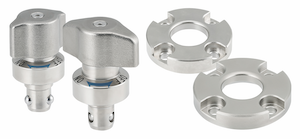 These are ball-lock pins that lock and unlock by turning the knob, which allows the locking balls to push out to lock and retract to release.
The heavy-duty pins provide for positive locking in quick change applications where there is frequent insertion and removal of a fastener. They are designed to be used with heavy duty receptacles made specifically to pair with the pins. The wedge of the locking pin pushes out the ball against the tapered surface of the receptacle to clamp the two plates.
They allow for a range of 6 mm to 20 mm plate thickness. Turning the knob 1/3 of a turn aligns and locks the fastener into place. They are marked with "ON" and "OFF" indicators to show the position of the fastening pins. These positive-locking pins will not release until the knob is turned, allowing the balls to retract into the shank so that the pin can be removed from the receptacle without the use of tools. The knob turns back to the OFF mark by spring force. They can provide accurate positioning. For higher precision locating, locating pins can be used along with knob locking pins.
The corresponding knob locking receptacles are made of hardened nickel-plated steel and are supplied with four socket head cap screws and weigh from 28 to 60 g for added stability.

COMMENTS: 0
---