Posted August 13, 2023
Spectroline's compact lamp and leak finding kit
Spectroline's LeakTracker MINI UV LED leak detection lamp, SPI-LTM, is a miniature cordless, 365 nm UV LED leak detection lamp with a rugged design and IP68-rating, making it ideal to withstand years of daily use. With a compact design that allows it to search for leaks in tight spaces, the LeakTracker MINI is compatible with all industrial fluid systems and pairs with all Spectroline dyes.
---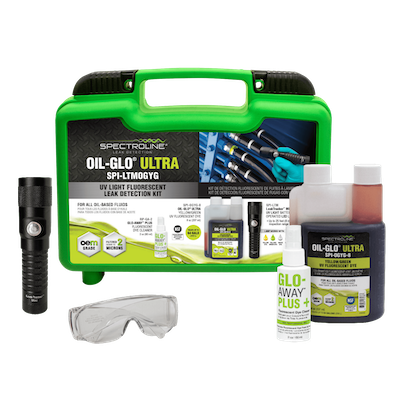 The inspection range of 25 feet and 700 Ma UV light output make the lamp an ideal tool for searching for leaks in various applications from mobile hydraulic equipment, stationary hydraulic equipment, facility maintenance projects, and OEM on-line quality control. The value price point of the lamp makes it an essential tool to have on hand for routine maintenance and finding leaks fast.
The LEAKTRACKER MINI Complete UV light fluorescent leak detection kit features the SPI-LTM LeakTracker™ MINI UV LED lamp, SPI-OGYG-8 OEM Grade OIL-GLO ULTRA 8oz bottle dye (glows YELLOW/GREEN), UV absorbing glasses, and GLO-AWAY Plus fluorescent dye cleaner. The kit is a convenient, on-the-go series of tools that allow for easy leak checking, leading to optimal productivity on production lines and field service among a wide range of industries.
Spectroline's Strong Industrial Leak Detection Product Line
Spectronics, based out of Long Island, New York, is a manufacturer and inventor of UV fluorescent leak detection technology and ultraviolet lamps. Spectroline products have been making the world a better place for over 65 years in industries such as HVAC, Aviation, Industrial, and many more. Their leak detection dye remains a convenient necessity in preventative maintenance programs for hydraulic equipment due to the easy method of pouring the leak detection dye, spotting leaks fast during any simple inspection for the life of the equipment.
Be Proactive with Spectronics
Spectronics has been educating their customers about a simple principle which is this: you don't wait for something to completely break down before you fix it. Whether it's a nuclear power plant, a huge HVAC system for a multi-million-dollar skyscraper, or your car's air-conditioning system, it's all the same. If you invest in properly and regularly maintaining them, you'll end up saving time, money and maybe even lives. That's the real value Spectronics provides to customers all over the world.