Posted September 8, 2023
Snap-on air hammer bit foam set for techs
Snap-on sets make it easy to access a combination of tools designed to equip techs for successful and productive days in the shop. The PHGFSET01FR 21 pc Essential Air Hammer Bit Foam Set features a wide range of punches, hammers, and chisels along with a scraper, sheet metal ripper, double-bladed panel cutter, ball joint/tie rod separator, and spot weld breaker.
---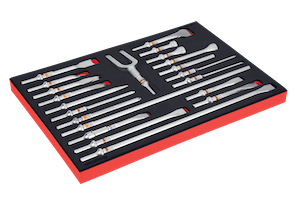 No more searching for air hammer bits when they're secured in contrast-colored foam for quick identification. For added protection, the foam resists oils, solvents, and fuels. Even handier, this 19.24" W x 13.32" L x 1.73" set fits in a 2" deep drawer.
These popular .401 high-strength steel alloy turn-type shank bits have a Zinc Clear Chromate finish for added shine and visibility that is corrosion resistant.