Posted September 18, 2023
New Pilz remote I/O module for safe, decentralized automation
Pilz, a provider of machine safety automation technology, is expanding its product portfolio for both decentralized applications and applications directly in the field by developing a new remote I/O module PDP67 PN with flexibility and safety in mind.
---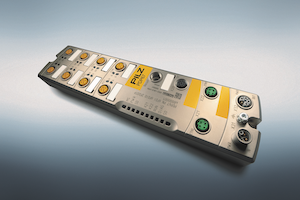 Thanks to its robust design with protection class IP67, the module can be installed directly on the machine. Interface and universal connections, which can be configured as inputs or outputs, make PDP67 PN particularly flexible. As only one device type is needed, users also save stockholding space and costs.
Decentralized I/O systems are an important component for flexible and modular automation solutions. Equipped with protection type IP67 and robust die cast zinc housing, the new remote I/O module PDP67 PN is ideally suited for positioning directly on the machine. Even outside the control cabinet it provides reliable safety at temperatures of -30°C to 70°C.
Sensors and actuators can be connected quickly and simply to the PDP67 module thanks to M12 plug-in connectors. There's no need for complex wiring. Not only does that save time during operations, but users also benefit because modular production plants are easy to expand. Thanks to universal connections, users only need to keep one type of PDP67 PN in stock.
The new remote I/O module can be integrated into the network of the remote IO system PSSuniversal 2 from Pilz, as well as any other Profinet/Profisafe networks. As a result, PDP67 PN is an economical and flexible solution for monitoring safety and non-safety-related sensors and actuators in environments with extreme temperatures. In addition to applications in packaging technology, robotics or forming, PDP67 PN is particularly suitable for the automotive industry.