Pferd and Advance Brush 2011 Tool Manual
The new Pferd and Advance Brush Tool Manual is a complete guide to metalworking solutions.
---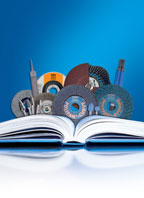 The 468-page reference includes technical information that explains how the relationships between material, drives and the tools are critical to more productivity in metal finishing applications. It answers questions concerning the selection of the optimum tool or combination of tools as they pertain to specific applications involving the power drive, material and results desired. It begins with a easy-to-follow Quick Product Selection Guide and continues with a Summary of Applications and Their Solutions. A section devoted to Materials and Their Machining Characteristics includes recommendations on how to use tools with different materials.