Snap-on Level 5 KTC Keyless Tool Control
Snap-on Industrial's new Level 5 KTC Keyless Tool Control series of tool storage is a system that fully secures tools by using an electronic keypad or scanning an ID badge to gain entry into a tool box.
---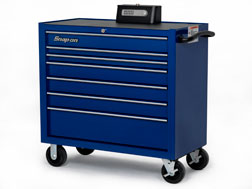 The KTC system is ideal for boxes that are often on-the-go in applications such as:
Aircraft maintenance
Power plants
Refineries
Railroad maintenance
Public transportation
Fleet garages
It's easy for technicians in this environment to forget or lose track of their toolbox keys. With KTC the box is easily accessed anytime, anywhere, achieving the same level of security as a lock and key system while eliminating the inconvenience that keys often produce. The result is a tool storage system that actually enhances shop and facility productivity.
The KTC entry panel is incorporated into the top of the tool box for easy access. Since it's designed to work best for boxes on the move, the KTC system can be powered by six D-cell batteries (which can last up to six months), or can be plugged into an AC outlet.
Features of the KTC system include:
Credentials can be created to allow access for multiple users
LED lights indicate if box is open or closed
Access unit comes pre-assembled to top of tool box and ready to use
Tool box can be connected to laptop for additional monitoring