The Washington Post and Industrial Distributors
By Dick Friedman
What, you wonder, could the recent sale of The Washington Post have to do with industrial distributors? Once you understand who bought the newspaper that brought down a U.S. president and is read from coast to coast, and what he has accomplished, you will understand the threat he poses to industrial distributors. And you might get some ideas for enhancing the distributorship by thinking about how he might use technology to revamp the newspaper.
Amazon Supply
Jeff Bezos, the founder and CEO of Amazon, bought the newspaper personally, not through Amazon.com, for some $250 million. Amazon.com started as an online seller of books, and through his innovation and long-term vision expanded its product categories and evolved its website and business practices to make it easier for buyers to find a product, buy it, and pay for it; and have it delivered, quickly if desired. Amazon's website is rated by professional buyers as the best, and its distribution facilities and logistics arrangements are also considered the best.
Having perfected business to consumer sales (B2C) and distribution, under Mr. Bezos' strategic vision, AmazonSupply was established and opened for business in early 2012. It is a separate unit, not part of Amazon.com, it targets unplanned MRO spending, and has its own website. One look at AmazonSupply.com reveals that it was built for business-to-business (B2B) commerce, not consumers, and that AmazonSupply (AS) is not exaggerating when it offers 750,000 products. Many of the products are also sold by industrial distributors, including safety supplies, power and hand tools, cutting tools, and fasteners. And if the expansion of Amazon.com's product lines is any clue, expect AS to sell more industrial supplies.
AS offers free 2-day shipping on orders worth $50 or more, and for an extra charge an order can be delivered overnight; they are working on same-day delivery (and claim that their DCs can reach most of the USA the same day). Financing is available, including the "Corporate Credit Line," which allows 30 days to pay. Customers can return items without penalty within 365 days of purchase. AS claims to provide customer service and technical help, just like industrial distributors. An indicator of AS' commitment to B2B supply is its purchase of Kiva Systems, a company that provides mobile robots that automate order fulfillment and warehouse operations. AS is likely to use Kiva to help create very low-cost order-filling facilities, although some of the items sold will be shipped by third-party partners (as is now done for consumers). Amazon.com has shown extreme flexibility to accommodate changing technology, changing customer needs and new types of customers, so expect AS to do the same.
The Washington Post
No one other than Mr. Bezos and close associates knows his plans for The Washington Post, yet his "out of the box" thinking and use of technology are a clue to what might happen to the most influential newspaper in the land of gridlock. And more important, the thinking and technology can provide lessons for industrial distributors.
Out-of-the-box thinking and use of its technology infrastructure is evidenced by the fact that the "book seller" sells the Kindle brand of eBook reader, and the downloadable eBooks themselves; and downloadable eMagazines and e-Newspapers. It also sells downloadable music and videos, and on some of its servers sells storage space and hosts others' websites. Mr. B pushes the use of technology.
Another aspect of the use of technology is Amazon's surgically targeted use of massive amounts of customer data. Full disclosure: This author has active Amazon.com and PayPal accounts. The day before writing this article, I logged into my Amazon account, then searched for some USB flash drives, but bought nothing. The next day, while using Google to research the sale of the Washington Post, up popped alternately-displayed ads for all three drives I had viewed on Amazon.com, but I was not on the Amazon website. It's no surprise that Amazon "mined" data at about my previous viewing patterns to create ads, because I did not buy. But, how did Amazon manage to display those ads on another website? Amazon, and other selling sites such as eBay, have long used data on customer viewing and shopping to suggest products to purchase, but Amazon.com was the pioneer and continues to "push the envelope." (Perhaps the Post will store data about on-line subscribers' reading patterns, stories and ads, and use that data to pitch Washington Post-sold products/services and pitch advertisers' products/services to the subscriber).
Industrial Distributors
Possible lessons to be learned by industrial distributors include the following.
It may seem farfetched, but in the early days of computers, some distributors rented time on the company's computer. Today, the sale of both time and space (e.g. hosting someone else's website) could easily be arranged (but watch out for security and liability considerations).
Not so farfetched is the sale of services such as offering same-day delivery of orders placed early in the day, for an extra charge. For OEM and industrial accounts, consider offering inventory consigned at customer sites, and extra-cost crib and field-trailer management services (whereby the industrial distributor is responsible for maintaining the level of inventory).
Distributors could offer supply chain management services to contractors and industrial/commercial customers: In the distributor's warehouse, for a charge, store products customers own, and charge for delivering the products. Using company trucks, pick up products from manufacturers/reps and deliver them to customer's factories or bring the products to the distributor's warehouse and then deliver the products.
When a customer inquires by phone about a product but doesn't buy it, save that data; and save data about customers who browse the website but don't buy. Of course, save data about purchases. Obtain software that can "mine" all that data to discern patterns of interest, especially for non-purchased products that are complementary to products that the customer has bought. When a customer next calls to place an order, display information about those un-purchased, complementary products of interest. And for customers who have given permission to be sent e-mail ads, send e-mails about customer-specific products of interest but not purchased (including information about any complementary products already being bought). Don't forget the U.S. mail; print and send ads similar to those sent via e-mail.
For customers and products for which no interest was expressed, use the data about customer purchases to determine which complementary products are not being purchased. Send e-mail or printed ads about these products to those customers. And when a customer next calls to place an order, display information about those un-purchased, complementary products.
After all that data mining, give outside salespeople printed lists of complementary products not purchased by their customers, especially products for which an interest has been expressed. And in Mr. B's spirit of using technology, don't print lists; transfer each list to the salesperson's tablet, and enable the tablet to be used to place orders from the field.
No matter what happens to the Washington Post, there are many ideas that can be borrowed from Mr. Bezos, Amazon.com and AmazonSupply. Some of these ideas can help industrial distributors compete with AmazonSupply. Most important, develop the habit of thinking out of the box and using technology to enhance the distributorship and offer new services to customers.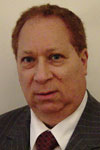 For more than 30 years, Dick Friedman has worked with fastener, tool, industrial and MRO distributors to develop long range plans and acquire technology. He is a Certified Management Consultant and is objective and unbiased. He has a Bachelor of Engineering and MBA degrees, and can be reached at (847) 256-1410 for a FREE consultation. Or visit www.GenBusCon.com for more information or to send e-mail.
COMMENTS: 0
---