Posted January 25, 2023
Stellar Industrial Supply names 3M its top supplier
Stellar Industrial Supply named previous multi-year winner 3M as its Supplier of the Year (SOY) award winner for 2022. The two companies collaborated to save 61 joint customers nearly 22.5% in customer Documented Cost Savings (DCS) during 2022. The company also announced Brady, Master Fluid Solutions and Walter Surface Technologies as its new STARS Partners for 2023.
---
The Stellar Industrial Supply Supplier of the Year award recognizes the strong partnership between Stellar Industrial Supply and 3M, and the commitment by 3M to deliver on the Stellar Industrial mission to consistently deliver integrity, exemplary experiences, enhanced value and cost savings for its customers.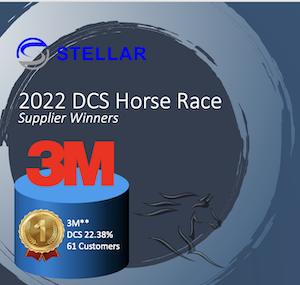 Underscoring that mission, the Stellar DCS program aims to foster "Ideal Customer-Supplier Partnerships." Working on behalf of both parties, Stellar Industrial Supply deploys the most efficient, cost-effective products that optimize plant operations and helps run them smartly and safely. Since its inception in 2010, the DCS program has generated over $165 million in cost savings, all of which are customer verified. The program saved customers nearly $18 million in total in 2022, and on average, Stellar customers realized nearly 21% in customer approved documented savings.
"Once again we thank the entire Stellar organization for the incredible support and collaboration both companies enjoy in this most excellent relationship," said Renee Ricciotti, national channel director, 3M Safety & Industrial Business Group."We are humbled to again be named Supplier of the Year, which is a celebration of our shared commitment to excellence and delivering the finest in customer experiences. We look forward to continued and increased success in 2023."
Stellar Industrial Supply President and CEO John S. Wiborg said, "3M always represents the Stellar way and vision at its highest level, while consistently driving our value proposition home to customers every day. We look forward to working with 3M once again in 2023."
Stellar Industrial Supply provides coast-to-coast support for its customers with 17 regional hubs, including: Portland and Albany, Oregon; Everett, Tacoma, Seattle, amd Spokane, Washington; Los Angeles-Metro, Upland, and Central Valley (San Luis Obispo, Ventura), California; Sparks, Nevada; Denver, Colorado; Billings, Montana; Phoenix, Arizona; Lawrence, Pennsylvania; and Tampa, Florida. The company distributes more than 90,000 MRO (maintenance, repair and operation) products and tools from more than 1,500 brands for safety, metalworking, marine supply, aerospace, and other general manufacturing and processing organizations, and also offers customized indirect material management.