Posted January 12, 2023
Three 12-amp brushless grinders
Three new next generation 12-amp grinders have been launched by Metabo HPT: A 4.5-inch AC brushless variable speed grinder (G12VE2 – MSRP $169), a 5-inch AC brushless variable speed grinder (G13VE2 – MSRP $179) and a 4.5-inch AC brushless single speed, non-locking paddle switch disc grinder with brake (G12BYEQ2 – MSRP $179).
---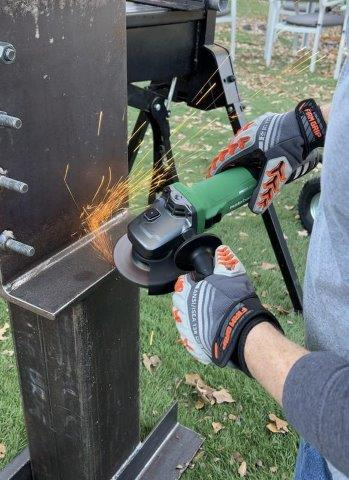 Metabo HPT delivers AC brushless products that significantly prolong tool life, permit the use of extra-long extension cords without reduced power loss, eliminate the maintenance of armatures or carbon brushes, and deliver superior performance when powered by a generator for ultimate jobsite convenience and extreme durability. The AC brushless motor also results in an ultra-slim grip circumference and lighter weight, reducing fatigue and improving control.
These three new grinders offer 12-amp, high-torque motors with 1,500 max watts out to power through the toughest grinding applications. The no-load speed on both variable speed models with slide switches (G12VE2 & G13VE2) is 2,500 – 8,500 RPMs. The
no-load speed on the 4.5-inch single speed paddle switch grinder model (G12BYEQ2) is 8,500 RPM partnered with a constant speed control feature to keep the speed consistent - even when under load. The paddle switch cannot be activated unless the lock-off lever is pushed down for added safety. An electric brake stops the wheel within seconds allowing this paddle switch grinder to be put down safely or to move on quickly to the next job.
Soft start is a feature on all three of these new grinders that delivers smoother start-ups, which is ideal for applications like polishing and reduces the load felt by the user. Soft start doesn't pull the full amperage when the grinder is activated so there is less opportunity to trip breakers.
They all feature new tool-less wheel guards that can be installed or adjusted easily by pulling back the quick release lever. Easy-to-manipulate spindle locks located at the front of the grinders make it simple to change out the accessories (5/8 11-UNC spindle thread) as needed. The included side handles can be moved to 3-positions (both sides and top) on the grinders for added control and maneuverability.
A line of durable and effective dust collection shrouds are sold separately – they securely fit each one of these new next-gen grinders. For surface grinding, the 377087M dust collection shroud is recommend. For vertical cuts, the 377085M is beneficial, and is also available with wheels – item 377086M.
These grinders come with kick-back reduction, fine mesh dust filters and zero voltage restart protection. Kick-back reduction quickly shuts off the power in the event of a bound wheel to extend the life of the gears and protect the user from potential harm. The fine mesh dust filters (which can be replaced) prevent dust particles from entering the motor housing to prolong tool life. Lastly, zero voltage restart protection prevents the grinder from restarting if power is temporarily cut during operation.
Metabo HPT's industry leading AC brushless motors are more efficient; leading to longer run time, increased power, and extended durability with essentially no maintenance. Eliminating the need for carbon brushes means freedom from issues with the motor armature burning out and experiencing layer shorts or commutator wear in severe environments. Also, brush wear and resulting armature damage from lack of maintenance is the most common service issue. This is eliminated by the Brushless motor resulting in more uninterrupted run times.
Additionally, Metabo HPT's brushless tools integrate electronic controllers that compensate for reduced power loss due to voltage drop. These AC brushless grinders are also designed for compatibility with a generator thanks to Metabo HPT's compact and highly efficient inverter circuit. This circuit cleans up and modulates the electricity before it is used in the motor providing steady, stable operation and greatly reducing the risk of damage to the internal circuits. This is ideal for mobile contractors without a permanent power source on the jobsite.