Posted March 21, 2023
Octane Chip Guard eliminates t-slot cleaning
The Octane Chip Guard, sold by KBC Tools & Machinery, eliminate the hassle, the mess, and the potential eye injuries from operators blowing chips out of t-slots – they also save shops money and machinists and tool and die makers clean up and set up time.
---
T-slot tables have been around for years and are used on most machining equipment built today. But all those t-slot grooves fill up with metal chips and need to be cleaned out on a regular basis and before the next tooling set up.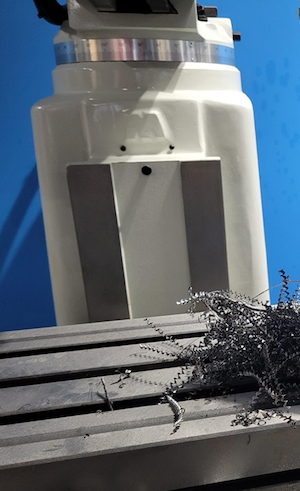 "Conservatively, the Octane Chip Guard easily saves 15 minutes per day and often much more than that," said ,, president of Octane Workholding LLC. That equates to $22.50 saved per day, and $5,625 per year on a single machine!
"Automatic washdown is possible when the swarf can easily be evacuated, making cleanup a thing of the past for many shops," he added. "We have customers with hundreds of machines, some with bed lengths longer than train cars … the return on investment can be staggering."
Octane Chip Guards are made from a high-temperature silicone and come in 10-foot lengths in a bright and attractive blue and in the most popular t-slot sizes, ( 9/16"/14mm, 5/8"/16mm, 11/16"/18mm, 7/8"/22").
The flexible silicone Chip Guards are durable and washable and reusable. They're in stock now at KBC Tools & Machinery in the U.S. and Canada.