Posted April 24, 2023
Trusted Supply application helps grow distributor revenue, relationships
At ISA23, Verusen announced the launch of its AI-powered Trusted Supply application, enabling industrial distributors, integrators, and suppliers to maximize visibility into customer demand to grow revenue and improve network resiliency for their customers.
---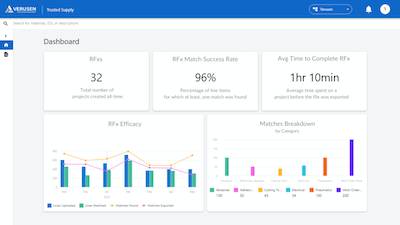 Data for the materials used throughout industrial supply chains is dirty, incomplete, and inconsistent as it passes through end-user and supplier systems. The traditional solution has always been data cleansing for multiple siloed applications and manual processes that cost all parties too much time, money, and risk.
Verusen's Trusted Supply is an application purpose-built for suppliers featuring natural language AI models to enable suppliers to respond more effectively to customer needs, regardless of system or data quality. Today, the offering is designed to streamline the RFx process, exponentially improving the match rate for materials requested by customers and prospects, enabling suppliers to respond in hours instead of weeks.
Future enhancements to Trusted Supply focus on improving efficiency and enhancing revenue generation with key areas of development including:
Real-time exchange of demand signals with customers
Tail spend optimization and contract compliance
Collaborative planning capabilities between suppliers and their buyers
"Entering our third year in market supporting dozens of F500 manufacturers and generating hundreds of millions in savings opportunities for them, we recognized that the next evolution of supply optimization is to simplify buyer-supplier collaboration to build resilient supply networks," said Verusen Founder and Chief Strategy Officer Paul J. Noble. "Speed and scale wins. I'm proud that today, Trusted Supply will help remove the friction from the RFx process and that in the future, Trusted Supply will enable real-time collaboration between suppliers and their customers, eliminating data dependent manual processes to make it easier to buy, easier to sell and reduce risk across the supply chain."
Benefits of Trusted Supply include increased RFx win rates, increased capacity to respond to RFxs, improved alignment on materials sourcing strategies and services, and the capability to allocate cost-intensive personnel resources better.
Würth Industry North America MRO & Safety, a Verusen customer, has experienced high ROI using Trusted Supply in a test over the past few months. In addition, partnering with Verusen has empowered them with increased visibility into their customer needs.
"Verusen Trusted Supply is helping us streamline our RFQ response process, resulting in us being able to respond more quickly and thoroughly to each RFQ. This provides our business with increased scalability versus our previous process of our teams manually matching the parts within our system for our customers," said Eric Wilk, CEO, Würth Industry North America MRO and Safety Division.
"At Industrial Supply Association (ISA), we are experiencing increased interest from our membership who wish to develop tighter linkages between suppliers and their customers in order to achieve a greater share of wallet while maximizing efficiencies," said Brendan Breen, CEO of the ISA. "I'm pleased to see the positive industry momentum from leading companies like Verusen and Würth Industry North America MRO & Safety in helping achieve these important initiatives."